Custom Products for the Repeater Builder
Construction notes on the RA-35 USB Radio Adapter Board

---
Large size top photo of the RA-35 REV2 PC board.

Large size bottom photo of the RA-35 REV2 PC board.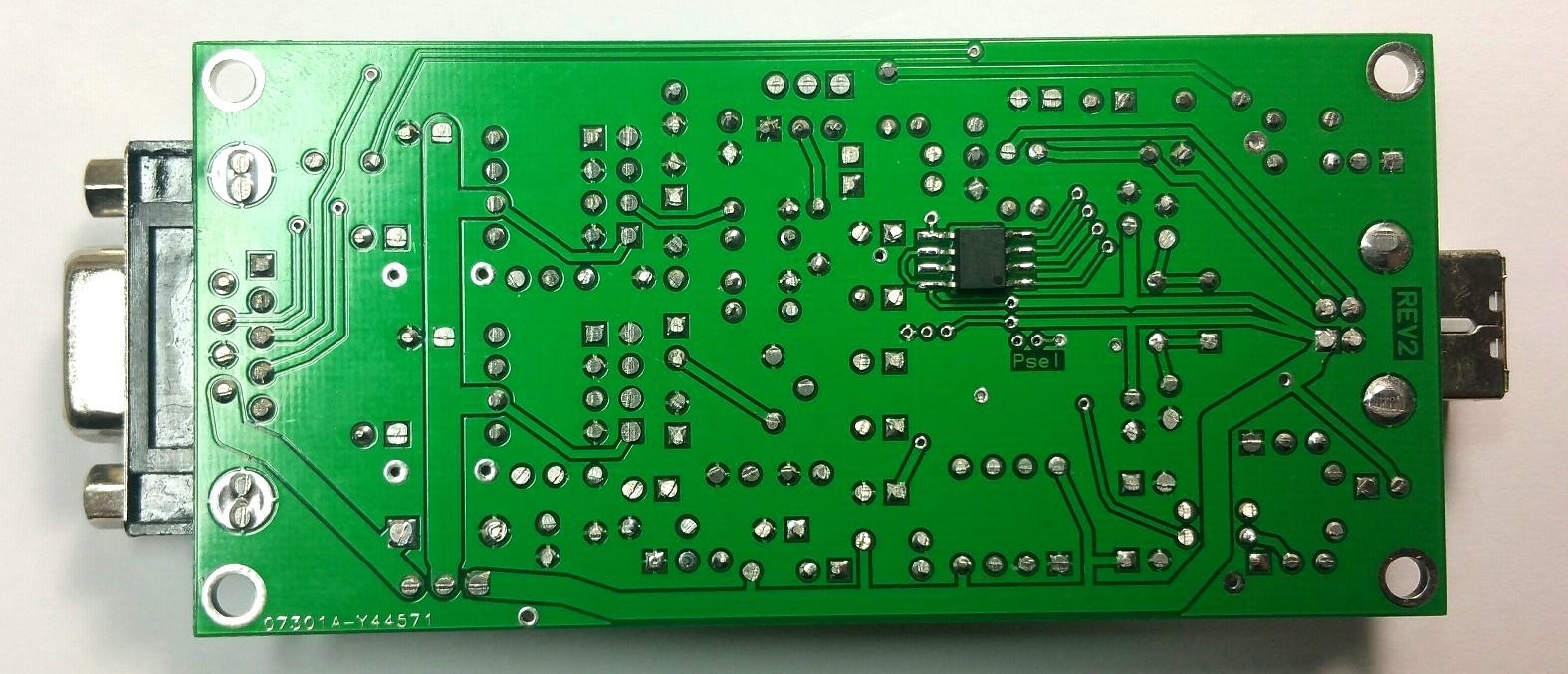 Assembly:
If you purchased our kit, refer to the parts list and make sure you have all of the components you need to build the kit. All of the components are supplied with the kit, and while we make every effort to insure we didn't short you any components, it can happen. If you are missing anything, just email us.
Click here for Parts List.
Assembly can be done by personal choice, but you may find it easier to install the surface-mount 48 pin CM119 first and do some ohm meter checks to make sure the leads aren't shorted. There is a dimple in the surface-mount package that indicates pin 1. Clean the board of flux. If you bought the kit with the CM119A already soldered, the board was tested with an ohm meter, and shipped cleaned free of any flux residue.
Install all resistors. Some resistors with the color violet may look dark blue. If in doubt, use an ohm meter to verify the value before soldering it in place.
Install the diodes and capacitors, observing polarity on all diodes and the polarized capacitors! The square pads are the banded end of the diodes and the + of the electrolytic capacitors. Small capacitors are identified as follows: "101" = 100pF, "102" = 1000pF or 0.001uF, "103" = 0.01uF, "104" = 0.1uF, in other words the first two digits are the value and the third digit is the number of zeroes you add to determine the value. In addition, there are two components that you need to make sure you install correctly as they are polarized and the board does not indicate such - C3 and C5. What might throw you are the wide traces. The wide trace on the top going to C3 is positive, BUT the wide trace going to C5 is ground. The positives of the capacitors face one another - in other words, they go toward the center of the board. It's helpful to look at the photo above.
Then install the transistors (flat to flat on silkscreen). Install the IC sockets.
Install the crystal and headers. Then install the LEDs (short lead to the square hole) and the three and four pin headers, followed by the DB9F and USB "B" socket connector.
Information on the CM119A.
Click here to download a manual for the C-Media CM119A.
Information on the CM119 (NOT "A").
Click here to download a manual for the C-Media CM119 - some prototypes used this version of the chip.
Email Kevin Custer for support.

Custom cables available from URI Cables. They will build a custom cable for the RA-35 for many radios.

Product of Masters Communications, all rights reserved.
Specifications may change without notice.
Images property of Kevin Custer - Masters Communications.
Board layout by Kevin Custer - W3KKC
HTML February 3, 2016, W3KKC All Rights Reserved!